The last three years have experienced disruptions in the auto industry unlike anything seen since the production shutdowns of World War II. Prior to that, you would have to go to the turn of the century, when Henry Ford introduced the Model T and revolutionized car buying forever. 
Finally, 2023 may be the first in the new decade that will see a little stability. The market shows no sign of slowing down; S&P Global Mobility expects new vehicle sales globally to reach nearly 83.6 million units in 2023, a 5.6% increase from the previous year.
So, what will be the new auto industry normal in 2023? 
Falling prices are finally nearing the retail level, but inflation woes continue to bog down buyers weary of costlier options. Sales last year were dampened by limited inventory, as well as options that were shown off on the lot with hefty price tags. Moving forward, there will be many challenges and opportunities for dealers; it's vital to prepare for the five predicted automotive trends expected in 2023:
Emergence of China
In less than a decade, the biggest country in the world has quietly supplanted Tesla as the world's most prolific EV automaker. Additionally, BYD has outsold the American-based country by nearly 100,000 units each quarter of last year. Currently, there are 450 registered EV firms in China, all of which are competing for the world's largest automotive market. Now, these companies are planning future designs for the United States and Europe. 
Already, New Energy Vehicles qualify for financial subsidies from their governments (in particular: plug-in hybrids, fuel cell EVs, and battery electrics). As the world's biggest emitter of carbon dioxide, China is on track to oblige to their Paris Accord carbon neutrality targets of a 20% reduction by 2035; a 100% reduction by 2060. Since 2009, the local government has deeply subsidized consumers' EV purchases, reimbursing $14.8 billion for battery electric vehicles. Across China, there are 120,000 EV charging stations and 4.8 million EV charging stalls. 
Emerging China EV companies will achieve 20% domestic market penetration by 2025 and 60% by 2030. 
EV Adoption Will Continue to Grow
Since 2019, Americans' purchase of electric vehicles has doubled year-over-year. A growing list of new models from established brands is making EV purchases more manageable. With offerings from Ford and Chevy, prospective drivers no longer have to get stuck on waitlists for popular models from Tesla and Rivian. Starting this year, Congress will introduce a revision to the Inflation Reduction Act, changing the calculus on all "clean" cars — not just battery-powered options. 
Spikes in gas prices have prompted more first-time EV buyers (specifically fuel-efficient hybrids and plug-in vehicles); a recent American Automobile Association poll revealed that 25% of Americans would sell their rides and choose an EV for their next purchase. 
Used Car Prices Will Fall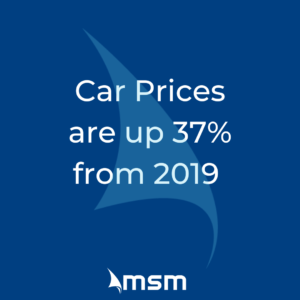 After reaching ridiculous highs in the early parts of last year, used vehicle prices will continue declining. The average price of cars wholesaled was around $15K. This was down 12.3% from the peak in summer, but still up 37% from November 2019. 
According to the Bureau of Labor Statistics, the consumer price index showed considerable decreases in used car spending, continuing to compromise the demand for these vehicles. The firm J.P. Morgan predicts used car prices will drop up to 20% this year. 
New inventory continues to build, steadily rising after historic lows, primarily due to supply chain issues and chip shortage changes. These new vehicle offerings also incentivize purchases through small interest-rate loans. Unfortunately, this is all at the expense of used car sales. 
Online Dealers Will Continue to Flourish
Carvana saw a sharp decline in fortunes and sale prices last year; its share price went from $360 to less than $5 by the end of December. Though the online retailer likely failed, the online-centric model will continue to be adapted by dealerships. EV companies such as Tesla and Rivian have proven that buyers prefer to acquire their vehicles in this way. Because of the pandemic, dealers were forced to adopt and engage on these digital channels. 
Even Ford CEO Jim Farley announced at the automaker's recent annual shareholder meeting that the brand would sell their entire EV fleet online. This creates a streamlined and more straightforward process for both the buyer and the seller, each vehicle tagged with no-haggle, non-negotiable prices. Moreover, it rids the dread of going to a dealership and interacting with a smarmy car salesperson. 
Skyrocketing Interest Rates
Continued inflation had a domino effect on auto rates. Borrowing money is expensive because of these interest rates, which are meant to appease the Federal Reserve's goal to quell inflation. 
Consumers are paying more than ever to finance new and used vehicles. Last November, the average interest paid over the life of a new car loan climbed to an all-time record of $8,436; used car loans climbed to an all-time high of $10,204. Even rates near or slightly below the average can rack up thousands more in interest paid compared to years past. Most analysts believe that high prices and high-interest rates will soon make new cars a luxury that only high-income families can afford.