The future of the car market is digital. 
Online shopping has now extended to the automobile market, partly in response to the pandemic, with the rise of such companies as virtual dealerships such as Autotrader, Carvana, and Vroom. The largest auto dealership in the USA is now CarMax, which jumped to the top spot on the back of a significant increase in online car sales. Because of this transition, the increase in e-commerce vehicle purchases has caused a rise in transportation and tracking of this valued merchandise across the country. As a result, the vehicle transport marketplace has ballooned for shippers and brokers. 
Shifts in business models are nothing new. After all, businesses must adjust to the times, or go extinct by consistent decline. Even as COVID-19 numbers have fallen dramatically, some buyers are still wary of cluttered showrooms, especially during flu months. Streamlining the process makes it easy to avoid pushy salespeople, keep away from crowds, and cut down lengthy wait times. Essentially, buying a car online puts the buyer directly at the front of the line, and into a virtual driver's seat. 
Negative Association With Dealers
With all due apologies to all the car dealership owners and workers out there, consumers typically do not like car dealerships. So while the free coffee, pastries, and having ESPN on the big screen in waiting rooms are nice, consumers often dread the trip to the car dealership.
With the auto industry going increasingly electric and moving online, several top companies are rethinking every aspect of their purchase process — including moving out of the space. If anyone is responsible for this shift, it's Tesla who promoted online-only offerings years before most of their competitors. In addition, supply chain bottlenecks for semiconductor chips — often bundled in hundreds to thousands for vehicles to work — have given in-person dealers little to show to their customers. 
Technology for all industries has expanded the boundaries that a physical location contains. For example, when purchasing a vehicle in person, a potential driver is limited to testing only the selection on the lot. With an online car shopping search engine, a keyword can pull up a multitude of options. "Infinite" isn't exactly the number of cars, but it comes pretty close. 
Different Locations
Speaking of Tesla, both the industry leader and Rivian have taken the lead in innovative ways to market auto e-commerce. Mostly, they've banished traditional dealerships, instead renting space in shopping malls to allow prospective buyers virtual methods to test-drive their cars, practically from the comfort of a couch. Because electric vehicles have fewer options than combustion engine models, they are much easier to sell online. In addition, states such as California and the entire European Union have laws in place to make it illegal to sell non-electric vehicles by 2035, a decision that will move buying cars online to the forefront of vehicle sales. 
Buyer Benefit
For the buyer, online shopping doesn't make them feel bamboozled by shady sales practices. In fact, there is considerably more transparency in the online process. Beside price comparisons across the industry, a prospect has access to product information, can streamline time-consuming facets, and has less — or even no — paperwork to fill out. 
Executives and salespeople are in the know. According to a survey published by Automotive News, polled industry personnel is bracing for a substantial rise in direct-to-consumer sales by automakers and that new car sales will all be online by 2030. This allows for lower sales pressure on searchers.
There's Money In It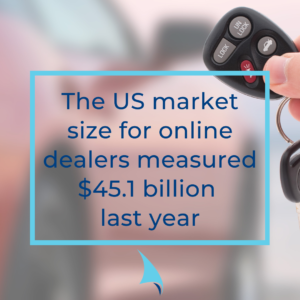 According to a report published by Allied Market Research, the global online car buying market generated $237.9 billion in 2020; projections place the industry at garnering $722.8 billion by 2030, a CAGR of 12.2% from 2021 to 2030. Rising facets of the global online car buying market include end-to-end online sales, penetration of third-party marketplaces on the web, and the rise in off-lease cars and subscription services. In particular, the online car buying market for pre-owned cars has grown in most regions, primarily due to a decline in overall income and the highest inflation rate in 40 years. The SUV segment contributed to the highest market share in 2020, accounting for 1/3+ of the total share (13.7% CAGR). 
By US market size, online car dealers measured $45.1 billion, with annualized market size growth over the five years at 6.4%. Despite soaring prices, Americans bought record numbers of used cars last year. 
Ultimately, digital retail is fruitful for dealers, reaching prospective customers they usually would never have interacted with by offering end-to-end buying of a vehicle through an online platform.
Online Car Dealership Benefits
Here's the main reason why your dealership needs to offer online buying options: they benefit you also. 
Though dealers may lose market share to the many new online car platforms, they will benefit from lower sales costs. In addition, the transition to online will open new market channels, including offering subscriptions, rentals, and ride-sharing. Firms can also offer all-inclusive insurance, charging points, and maintenance deals. 
To remain relevant, dealers are investing in offering a customer experience via a dynamic presentation on the internet. According to auto customers, a majority estimate that the customer experience is much more important than the actual price of buying a car online. Customer service is critical. 
For most of us, any search begins with the internet. Why not our next car purchase – especially in a market where a reported 61% now prefer this burgeoning method.  
What it Means for Car Dealerships
Many car dealerships have transformed their car sales structure into a more digital one. If they have not transformed digitally, they have plans to shift to an online buying environment, or at least to offer more online shopping options to meet the demand of the modern car buyer. However, even for those who transform how they sell, 70% of those transformations will fail.
To succeed in the modern auto buying environment, auto dealerships must be committed to transforming digitally. However, they must also partner with the right service providers that can help them increase their efficiency, shift manual processes to become automated and digitized, as well as lowering their overall costs.
Modern buyers are looking to shop for and purchase their vehicles online and on their phones. Is your auto dealership transforming to accommodate their desires?