New and used car prices continue to increase at historic rates. As a result, the industry serves as one of the many culprits contributing to high inflation rates, the largest in four decades. As a result, the average buyer is spending nearly $1,000 above MSRP this summer.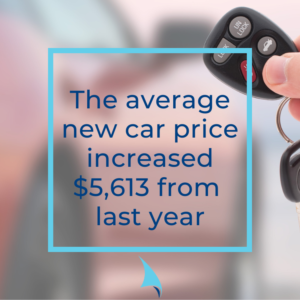 According to Kelley Blue Book, the average sales price for new car buyers rose to a whopping $47,148 last month. For those habitually checking their bank account, that's a $304 increase from April and a $5,613 rise from this time last year (a 13% increase). In addition, prices rose 1% ($472) month over month, the second-highest on record regarding the average price paid. The highest is still December 2021, when ATPs topped out at $47,202. 
Supply Chain Issues
Supply chain issues continue to be another one of the challenges, preventing discounts and leading directly to escalating prices. As a result, the market will maintain an elevated level into next year and beyond. Just last year, supply chain issues caused, especially delays in semiconductor chip manufacturing and shipping, led to the cancelation of over 10 million car builds. This number is expected to be over 7 million this year, and 4-5 million in 2023.
Despite the severe issues facing the automobile sales industry, there were still several new and used cars that stood out amongst their competitors. Below are the best and fastest-selling vehicles of 2022.
Best Selling New Car: Ford F-Series
To date, the Ford F-Series has sold 140,701 this year. 
The oldest vehicle on this list, the truck debuted in 1917 as a Model TT chassis cab, moving 2019 units in its first year at $600 apiece. By 1928, 1.3 million customers were behind the Model TT wheel. Introduced in 1935, Ford's Model 50 pickup had numerous stylish updates and was powered by the Ford flathead V-8. The vehicle was manufactured until 1941 when Ford halted production to benefit the war effort. To date, four million Model 50s have been produced. 
Following World War II, the next generation of consumer trucks came in the first generation F-series. However, it took until 1995, when Ford introduced the aerodynamic ninth-generation rendition, that the truck surpassed the Volkswagen Beetle as the world's biggest-selling vehicle. 
Expect the F-Series overall sales to increase later this year when Ford introduces an electric version called the Lightning, the company's first all-electric pickup in its fourteenth-generation model. The EPA-estimated range goal is 300 miles on a single charge. 
Best Selling Used Car: Honda Insight
The best-selling used vehicle took an average of 28.9 days to move 26,853 units so far in 2020. It's one of eight of the best-selling vehicles, including the Hyundai Ioniq Hybrid, the Toyota Prius Prime, the Chevrolet Volt, the Toyota Highlander Hybrid, the Toyota Sienna, the Toyota RAV4 Hybrid, and the Toyota Prius. Because fuel prices reached record highs, many buyers are turning toward fuel-efficient options, appealing to price-conscious consumers. 
Two years after the introduction of the Toyota Prius, Honda's hybrid offering was overshadowed by the company's Civic, which was similarly economical. The first generation was criticized as too small by dissatisfied drivers and was dismissed as a bust, selling just 17,000 between 1999 and 2006. A decade later, the Insight was rebranded, with impressive safety features, better seating, and an "eco" button. 
The fourth and current generation seems to be the best yet. Fitted with a 1.5-liter Atkinson-Cycle 4-cylinder engine, Honda's two-motor hybrid drive system allows even more reduced fuel consumption. 
Fastest Selling New Car: Honda CR-V
The fastest-selling new vehicle takes an average of 7.6 days to move off the lot and has sold 58,579 cars this year. The overall average Honda price is $35,132, an 8.4% increase above MSRP. CR-V stands for "Comfortable Runabout Vehicle," which doesn't really mean anything — it's a term the company made up. 
This popular vehicle debuted stateside in 1997, two years after its Japanese debut, and has maintained much of its original design. Heavily based on the contemporary Civic and crossover, the original had a mini-SUV appearance, including a swing-out tailgate. The original was known for its affordability (around $20,000) and moved six figures within a year following its introduction. 
The fifth generation is the first electrified Honda SUV in its U.S. lineup. Because of the low repair costs associated with the model, the eighth largest automobile in the world is a reliable option for both used and new options in their product line. 
Fastest Selling Used Vehicle: Tesla Model X
You'll have to get lucky with this one. The highly demanded electric vehicle takes 28 days to sell at an average price of $90,406. On the list of fastest-selling models, it's joined by three additional Tesla Models — including the Model Y, the Model S, and the Model 3. Blame tight new availability sending Elon Musk enthusiasts to snag a slightly used version. Still, like the new ones, all Tesla models won't be delivered for another several months. 
The battery-electric mid-size luxury crossover was introduced to the market in 2015. At the time, customers were required to put down a $5,000 deposit — a decrease from the Signature model's $40,000 preorder two years prior. Unfortunately, the manufacturing had its hiccups; Tesla experienced significant delays in 2016 by a supplier parts shortage. Nevertheless, the first two generations surpassed 106,689 units in two years. In 2018, the Model X and Qantas set the Guinness World Record for heaviest tow by an electric production passenger vehicle, hauling a 287,000-pound Boeing 787 one thousand feet. 
A single Tesla Model X charge boasts a 200-mile range and can accelerate 0-60 mph in six seconds.  
Car Sales Future
The issues that have slowed auto sales and increased the cost of cars will most likely continue at least into early 2023. Auto repair companies will probably see an increase in business as drivers look to keep their used cars as long as possible. However, opportunities will loom large in the future for car dealerships that can withstand the challenging times brought on by the pandemic and current economy.